One can't deny a freshly baked chocolate chip cookie! My Mammie made the best cookies on this side of the Mississippi. When my grandfather would pick me up after school, he would drive down to the town's high school to pick up my grandmother, Mammie. As soon as we would pull in the driveway, I would run into the kitchen and open up as many containers as I possibly could. Mammie wasn't a stranger to baking just one batch, she would have several batches. She was an amazing grandmother!
There was no telling how many cookies I ate while I was in her kitchen
Mammie never wrote down her recipes "fully." Her recipes went a little like this:
"Flour, sugar, salt, baking powder, and brown sugar. Mix wet ingredients."
I'm not sure what those wet ingredients were.
If I had a chance to go into a time machine, I would most certainly go back and write down all her recipes. Instead, I have many loose brown crispy pieces of paper attached to bobby pins and sewing needles.

We all have many stories in our lives that are surrounded by the famous chocolate chip cookie, but many aren't exactly aware of how the chocolate chip cookie got started. Did the cookie begin in Europe, Asia, or possibly the United States?
The chocolate chip cookie was invented by chef Ruth Graves Wakefield and her partner chef Sue Brides from Whitman, Massachusetts.
Wakefield was flying back from Egypt where she had the idea about placing chocolate in cookie dough. She had experimented on chocolate before and knew that the chocolate would retain its shape through high heat. Chocolate then was mostly served in deserts melted.
Wakefield and Brides worked on the chocolate chip cookie at Wakefield's Toll House Inn, located in Whitman, Massachusetts. During the height of World War II, they sent care packages to the U.S. military overseas. The servicemen wrote letters to home, asking their family to send Toll House cookies. Wakefield began receiving letters all over the world asking for her Toll House chocolate chip cookie recipe. In 1956 the chocolate chip cookie recipe made it's way into the UK.
Wakefield sold the rights to her cookie recipe and the Toll House name to Andrew Nestle for one dollar, and a lifetime supply of chocolate. However, the Nestle Toll House chocolate chip cookie recipe is not the same one Wakefield invented. The ingredients changed as Nestle marketed their product.
The recipe was published in a book that Wakefield had written in 1938. Not until 2017, Maria Stephanos from WCVB interviewed Sue Brides' daughter and shared the original Toll House cookie recipe.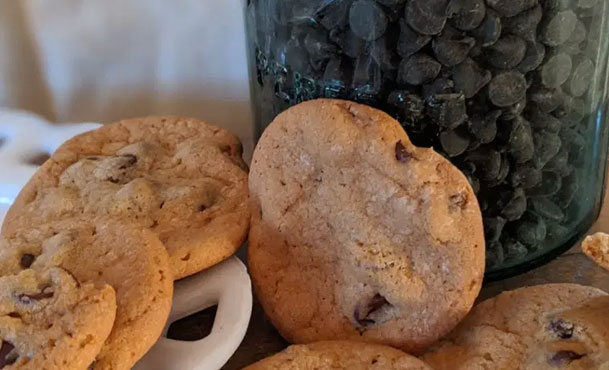 I took the liberty of testing out this recipe. The cookie was astounding. Also, if you want a very crispy cookie, bake them on a Lodge cast iron griddle.
Toll House Chocolate Chip Cookie
1 ½ cups shortening
1 1/8 cups sugar
1 1/8 cups brown packed
3 eggs
1 ½ tsp. salt
3 1/8 cups all purpose flour
1 1/2 tsp. hot water
1 ½ tsp. baking soda
1 ½ tsp. vanilla
2 cups chocolate chip cookies
(walnuts are optional)
Preheat oven to 350 degrees.
Dissolve baking soda in hot water.
Mix shortening, white sugar, and brown sugar, eggs, and salt until creamy. Add baking soda mixture and flour. Mix until everything is well combined. Add vanilla and mix in briefly.
Fold in chocolate chips and walnuts. Scoop onto cookie sheet using a cookie scoop. Bake for 8-10 minutes until sides are golden brown. Best served as warm.