Through the years, Lodge cast iron has gone through some pretty amazing designs. Some pieces of Lodge ironware has more collector's value because of the unique design or short duration of manufacturing, which makes the ironware harder to find.
Before I became interested in cast iron, I always thought cast iron skillets were cast iron skillets. I didn't understand that there were a collector's value and history behind the things that we use daily in our kitchen.
Identifying cast iron can be very challenging and overwhelming. When I first started out in collecting cast iron, I built so much frustration in identification that I unfollowed anything about cast iron and went back to cheap casserole dishes. After I started reading more about cast iron and watching videos, I understood more about cast iron collecting and identification.
In my little area of the south, we see A LOT of Lodge cast iron because Tennessee is home to Lodge cast iron. The oldest cast iron manufacture in the United States. Each cast iron has its own unique design. Early Lodge cast iron is known for its unique notches in their heat ring. A heat ring on cast iron is found underneath the cast iron skillet. Heat rings were used for wood-burning stoves.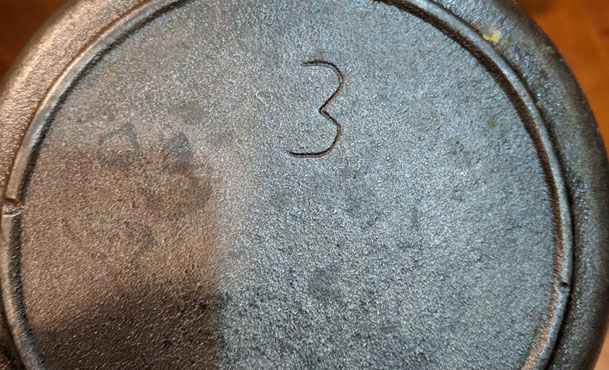 The above piece is a Lodge 3 notch - with a heat ring. Not all Lodge cast iron had three notches. Depending on some series of cast iron, Lodge had 3 notch, 2 notch and 1 notch. Some pieces of Lodge didn't have a notch at all (Lodge arc design).
Lodge is also known for their very unique tear drop handle style.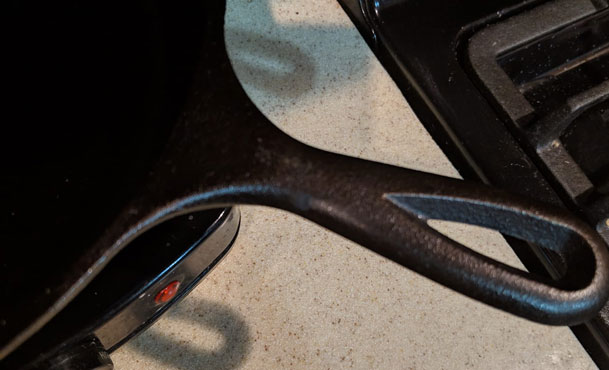 When wood-burning stoves started to phase out with traditional stoves, the heat ring was no longer required with their designs. Skillets were produced with a flat bottom and their first-ever introduction of Lodge's logo design. The new lodge production logo started in 1973. Through the years, the logo changed with new color schemes and graphics.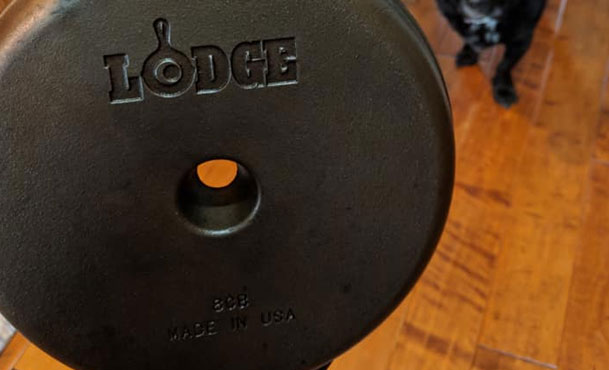 I personally love the vintage 1973 logo the best because their logo reminds me a lot of my childhood memories of Opryland USA theme park. The Lodge logo looks similar to the Opryland USA Logo. When I find the earlier Lodge logos, I usually buy them because of all the sweet memories I made there as a child.
Cast iron manufacturing goes through many different phases and designs throughout the years. Collecting the designs to make a full set is a fun challenge for any cast iron connoisseur, and a privilege to complete all the sets. Collectors in the cast iron community are extremely knowledgeable in explaining the design and the history of how the piece came about before production started.
Cooking in cast iron is only half the fun in hunting down old pieces of cast ironware, especially when there's a collectors value behind the piece.
To learn more about Lodge cast iron, Facebook has three wonderful sites for cast iron collectors, Lodge Cast Iron Lovers, Lodge, and BSR Cast Iron Group and Cast iron Country Cooling and Collecting.
For more information about cast iron restoration, recipes, and cast iron ware; please like my page on facebook
h
https://www.facebook.com/southcastiron/