When I'm not restoring cast iron, I love hunting for cast iron. There are certain pieces of cast iron I love. I love antique gate marked cast iron the best. Gate marked cast iron is a mark that you'll find at the bottom of a pan. The gate mark represents a time where foundry men would break the cast iron out by hand. Thus, leaving a scar on the bottom of a cast-iron piece. Gate marked cast iron pieces can be as old as 120 years or older. The oldest piece I have is about 140 (plus) years old. Ironically, gate marked pieces are the cheapest pieces you'll ever find. They're the best pieces you'll ever find because they are light in weight and a smooth surface finish.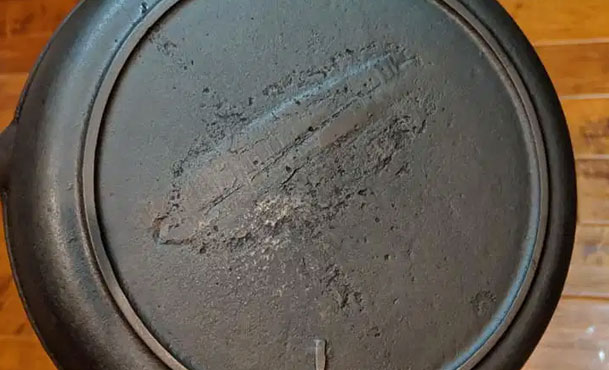 I have several in my collection and retain a majority of my pieces at junkyards or estate sales. I go through a series of tests before I select my final piece. Here are FIVE ways to select cast iron pieces that are perfect for your growing cast iron collection.
Look in a well lit area
Bring a flashlight y'all. LED flashlights are my go-to light source because I'm able to look along the rim for any cracks on the lip of the cast iron or on the surface of the pan. If I see one it's a no go. Also, rub your fingernail in what seems to be a crack. If your nail catches, that's a bad sign of a crack. I use this portable LED rechargeable flashlight. This flashlight is very bright and can be used for many other things as well.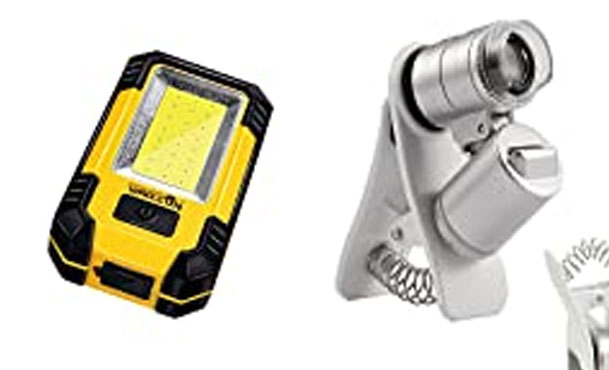 This is the BEST advice I can ever give anyone who is looking for cast iron. Here is my Youtube video that explains the thump thud method. This works on cast iron pieces that are circular. Lay you cast iron piece on the palm of your hand and not the handle. Flick the rim in four different areas. If the cast iron creates a ping, like that of a church bell, the cast iron does not have any cracks. If the piece gives out a thud sound, there is a crack in the cast iron. However, there is a drawback. If the cast iron has a lot of build-up this method may not work because the old seasoning is caught in the crack. This has happened twice to me. This is why you need to look in a well-lit area.
Spinner
A spinner is a term that most cast iron collectors use in the cast iron community. If your pan spins around like a Lazy Susan, you don't want it. Everything will sink towards the middle instead of spreading out evenly. Everything will start to burn in the middle.
Microscope
Yes, the one from your high school chemistry class. Kidding. I have a smartphone microscope. BEST.THING.EVER.INVENTED.
I mount the clip over my phone and place the microscope over the lens of my phone. Press your camera icon on your smartphone. I then turn on the light on my smartphone microscope, and start zooming in on a possible crack. You'll be impressed by what you see. The microscope is very cheap and not that expensive. The contraption is very small. You can place it in your pocket or your purse.
I use the microscope to show videos on my Facebook page what could be living in your cast iron skillet. The microscope will show mold and different types of mites growing inside a dirty cast iron. This is why cast iron has to be stripped down properly because you don't want that in your food. Gross.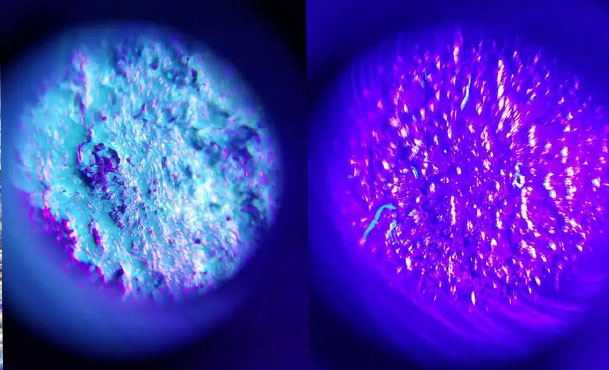 Cast iron with mold growth. (R) Cast iron before (mold growth) Cast iron after it has been fully restored.

Your phone I have taken pictures of many pieces of cast iron and sent them to a group of cast iron collectors I follow. I do this because I'm not certain if the value of the skillet is appropriate. The cast iron group will give me an estimate of the cast iron piece I'm interested in.

I also have very many helpful videos on my YouTube channel about cast iron. This is a very helpful recourse to visit about growing your cast iron collection.

Please visit me on my Facebook page Old Time Cast Iron Restoration, Instagram, and my YouTube Channel. Happy cast iron hunting.