I was never raised around influential cast iron cooks in my family. I never saw a cast iron skillet dish nicely prepared for our family gatherings. I honestly don't remember seeing any cast iron at all. I only remember the glassware that was used on my Mammie's wooden kitchen table. The dishes she used weren't fancy; most had chips on the end or had fractured areas at the bottom. I was surprised they never gave way in the years that she used them.
Every Sunday, Mammie made a remarkable cucumber and tomato salad. Her salad hit the spot on hot summer days. I could eat the whole salad in one gulp, but I dared not to because mom wanted us to reserve leftovers for Mammie during the week. Mammie never took a day off. She would work hard in the field to prepare for the next seasons crop.
While we ate, my family read the Sunday paper and ate at the same time. I was intrigued how one could eat and read without spilling their food off of their plate and onto their lap. Mom and Mammie loved reading The Thompson Station. The prolific writer, Jerry Thompson, always had a way in writing some of the most intriguing stories. I was fortunate to have been in the same grade and classes with his son, Joe Thompson.
I felt like an elephant in the room when I attended Westminster School of Nashville (now named Currey Ingram Academy). Everyone around me seemed to have very nice name brand clothing and the latest trending fashions. I never complained about the things that I wore because I knew my mom was doing everything she could to provide for us at the time. I felt like Joe understood me. We both came from the country and understood the simple life which was something the kids around us didn't comprehend. I enjoyed his hunting stories and his dad's stories.
I loved living the simplicity of the southern farm life as a kid. I love being in awe of the great outdoors. Each day was a new adventure and expeditions through the hills, and the creeks that poured into the wooded hollows. The sounds captivated my heart, as it did with Mammie.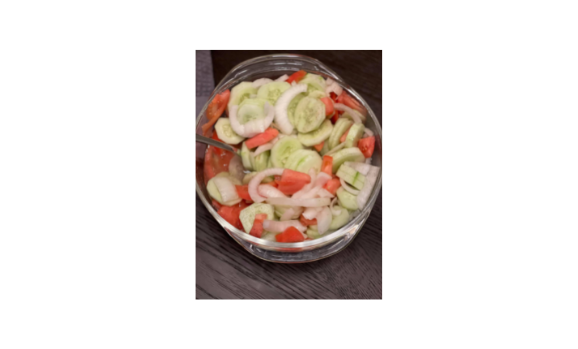 Cucumber Tomato Salad with Marina Sauce
1 cup water
1/2 cup distilled white vinegar
1/4 cup olive oil
1/4 cup sugar
2 tsp salt
Pepper
2 cucumbers peeled and sliced
1 onion sliced into rings
1 large tomato cut into wedges
Cut onion into sliced rings. Take the cucumbers and peel the skin and cut into thin slices. Take the tomato and cut into wedges.
Place onion, cucumbers, and tomato wedges and place them into a large bowl. Pour your olive oil, water,
sugar, salt, dash of pepper, and sugar on top of your onion mixture. Place in the fridge for 2 hours before serving.