I've had a few cooking failures in my lifetime. One of my continual failures has been mashed potatoes. I couldn't seem to get the hang of making mashed potatoes. The first time I made mashed potatoes, I was surprised my husband didn't leave me. Gosh, they were horrible!
A few times after that, I failed again. I decided that I just wasn't a mashed potato making person. My mom and Mammie seemed to have the perfect hand at mashed potato making. Evidently, I wasn't blessed at that hand a few years back.
A few years ago, I decided to make mashed potatoes again. I came across the Pioneer Woman's recipe one night, and watched her make mashed potatoes. I feel like I need to turn in my "southern card" because who watches someone make mashed potatoes. Oh, that would be me (deep sigh).
After I made her recipe, I was completely in love with this new mashed potato recipe. Since then, I've made this recipe for every Thanksgiving and Christmas family gathering. I occasionally make this recipe for my son and daughter, who now have a mashed potato addiction.
Here's the recipe:
Pioneer Woman Mashed Potatoes
5 pounds Yukon Potatoes
3/4 cup butter
1 softened 8 ounce cream cheese
1 tsp. Lawry's seasoned salt
1/2 tsp salt
1/2 cup whole milk
Peel and quarter the potatoes. Place in an enameled cast iron Dutch oven over medium heat.
Cook until softened and drain into a sink strainer.
Place the softened cream cheese and butter in a mixing bowl. Add the quartered potatoes in the mixing bowl and mix until creamy. Place the seasoned salt and pepper in the potato mixture. Add the milk a tablespoon at a time. Do not add all the milk at once, because the mashed potatoes will lose their thickness.
Pour the mashed potatoes in a 12 inch cast iron skillet.
You can make this recipe the day before.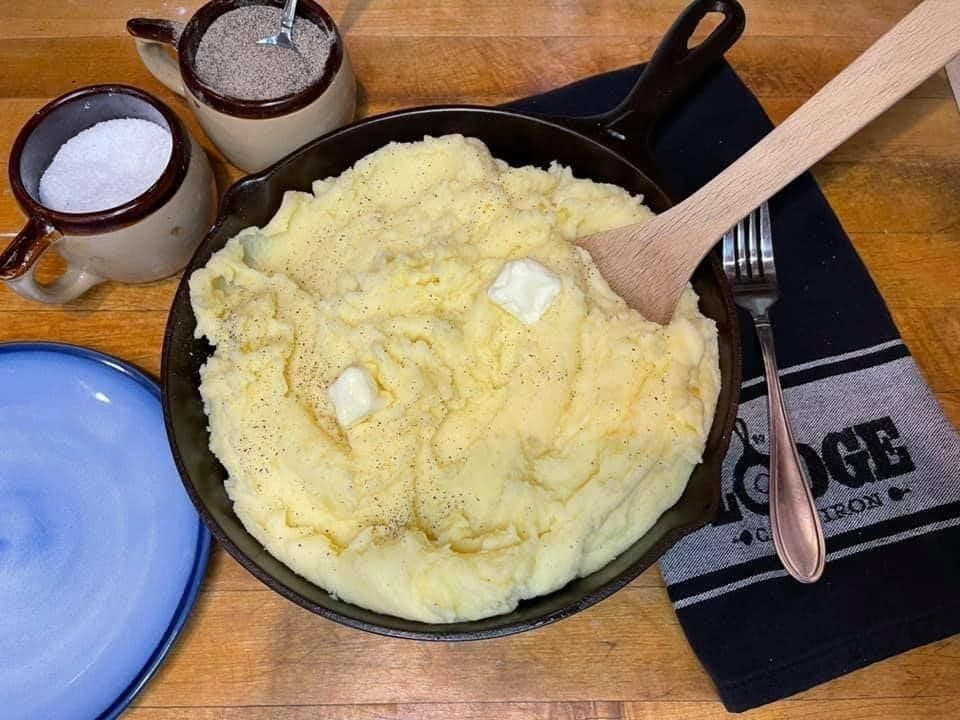 Law