When I'm not restoring cast iron or doing motherly duties, I like to read from cast iron magazines. Yes! There are very many cast iron cooking magazines out there. I often find the best recipes from Taste of The South. They provide some of the easiest and tasteful recipes out there. I'm a little opposite from everyone else because I really don't like cooking the same thing over and over again. I usually cook different recipes every other day. I find it fun to find a recipe with a "cool" twist. Also, my kids aren't as bored in what I cook because I don't cook the same thing over and over again. I keep their little brains entertained.
A few days ago, I found a delicious recipe from Taste of The South. I'm not much of a chicken person. However, I love- I mean LOVE pork chops. When I found this recipe, I scribbled what I need down from the grocery store and made the recipe the following day. Word's can't express how badly I wanted to go back for seconds. I was good at saying no. Surprisingly! That won't ever happen again!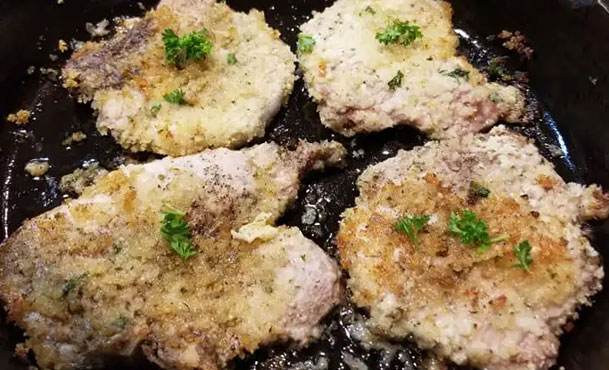 Here's the recipe.
Pork Chops with Gravy (white sauce)
1 large egg
1/2 cup whole milk
1 1/2 cups soft bread crumbs
3 tsp. parsley divided
1 tsp. minced fresh thyme
4 bone-in fresh pork loin chops
salt and pepper to taste
1/3 cup canola oil
2 Tbsp. butter
2 Tbsp. all-purpose flour
1 cup heavy whipping cream
1/2 cup beef broth
Preheat the oven to 425 degrees.
In a shallow bowl, whisk egg and milk and place aside. In another bowl, combine bread crumbs, 1 tsp. parsley and thyme. Stir together.
Sprinkle pork chop with salt and pepper on both sides and dip in the egg mixture, then the crumb mixture.
In a 10 inch cast iron skillet, pour canola oil in the skillet. Warm the skillet up for about 7 minutes on low heat. Slowly adjusting the heat to medium. Cook the pork chops for 4 minutes on both sides. Place the skillet in the oven and bake for 10 to 15 minutes.
While the pork chops are baking, prepare your white sauce.
To prepare your roux, you will need a small skillet. Place butter in the skillet on low medium heat. After the butter has melted pour in your flour. Slowly pour in whipping cream and beef broth. Increase the heat to medium and whisk until the broth has come to a boil. Cook and stir until the sauce has thickened. Serve over pork chops and sprinkle with remaining parsley.