In my best Homer Simpson gurgling noise impersonation.
"Ahhhhh, Chicken and Dumpling ahhhhhh."
Ok, that's a weak attempt. I'll never do that again.
I'm such a sucker for chicken and dumplings. My Mammie made the best dumplings when I was a child. While everyone was getting ready for Sunday lunch, I would cram every single dumpling I possibly could in my mouth. Mammie's dumplings were perfect! I wish I had her recipe for her dumplings. Her recipes were filed in her brain. Hardly any documentations of her recipes exist.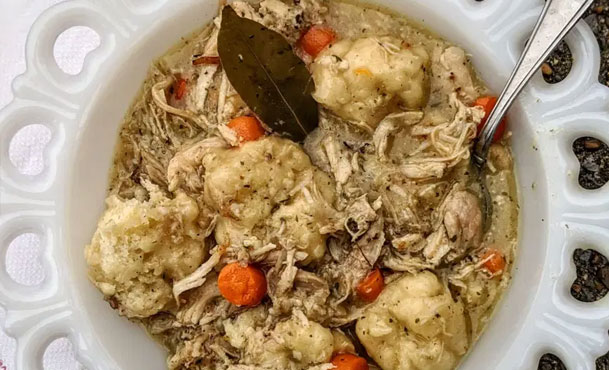 One Sunday afternoon I was searching for chicken and dumplings recipes. I found one that looked delicious. The recipe was "souped-up" more than my grandmother's recipe. My family loved the delicious flavors that were incorporated with the chicken and dumplings. Leftovers are just as delicious as the day you made the dish. These are the recipes I love to keep around in our family!
The recipe I used came from Tasty. I took out a few of their ingredients and added some of my own. Tasty adds a lot of unique variety to their chicken and dumplings. The flavors are very bold and satisfying to the palate. This is the recipe you want to use when your household is under the weather, or perhaps a cold dreary day.
For this recipe, I like to use an enameled Dutch oven.
Cozy Chicken And Dumplings
Kroger seasoned frozen whole chicken
2 tablespoons vegetable oil
1 cup diced yellow onion
1 cup sliced carrot
2 cloves garlic cloves, minced
1 teaspoon salt
5 tablespoons unsalted butter
6 tablespoons all-purpose flour
6 cups fresh chicken broth
½ cup farm fresh heavy cream
½ teaspoon dried thyme
2 bay leaves
1 tablespoon parsley
DUMPLINGS
2 cups all-purpose flour
1 tablespoon baking powder
½ teaspoon salt
½ teaspoon pepper
1 ⅓ cups farm fresh heavy cream
Cook thawed whole chicken on medium-high heat until the chicken falls apart. Remove the chicken from the pot and save chicken broth in the fridge. Debone whole chicken and shred chicken.
On low to medium heat, add 2 Tablespoons of vegetable oil in Dutch oven. Pour chicken into Dutch oven and cook until chicken has browned. Remove chicken from Dutch oven.
If needed, add a little more veggie oil in the Dutch oven before adding in chopped carrots and onion. Cook onion mixture for three minutes. Stir in minced garlic and cook for two more minutes. Remove onion mixture from the pot.
For the roux, add 5 tablespoons of butter. Allow the butter to melt. Add the flour to the melted butter and whisk. Gently add heavy cream and 5 cups of chicken broth. Stir in onion mixture, cream, thyme, and bay leaves and bring to a simmer. If the broth mixture is too thick, add an extra cup of chicken broth. Simmer chicken broth for 15 minutes.
While the broth is simmering, you will need to start making your dumplings.
DUMPLINGS:
In a bowl add flour, salt, baking powder, pepper, and 1 1/3 cups heavy cream.
Mix together and knead for three to four minutes. Pull from the dough ball and form individual balls. No bigger than one inch.
Place the dough balls in the simmering soup. The dumplings do not need to touch. Do not overboil the dumplings. This will cause the dumplings to shrink and dissolve. Dunk the dumplings in the chicken broth to cover completely. Do not stir! Boil for about 10-15 minutes on low to medium heat. Sprinkle 1 tablespoon of parsley over the soup and serve.