Mashed potatoes are a family favorite of ours. The kids come alive like and devour mashed potatoes like they haven't eaten in days. Not only is it an easy dish to make, but a cast-iron friendly dish as well. I often make mashed potatoes the day before. This helps me to prepare other dishes that take a little bit more extra time to prepare. My favorite recipe to use is Ree Drummond's creamy mashed potatoes. I love the taste, richness, and creamy texture in the taters.
I fell like I have to say taters because of my southern heritage. I promise I won't say it anymore.
Taters.
Sorry! It's just fun to say.
But my all-time favorite saying is from my favorite hobbit, Sam. "PO-TAY-TOES. Boil em, mash em, stick em in a stew."
Ok, back to the blog.
Here's a step by step process in this wonderful cast iron 'tater' recipe.
Ree Drummon's Creamy Mashed Potatoes.
I use a whole five-pound bag of golden potatoes. A successful tool that I like to use is the Vermi 3 in 1 Julienne Potato Peeler. With this tool, I'm able to peel my veggies faster and cleaner.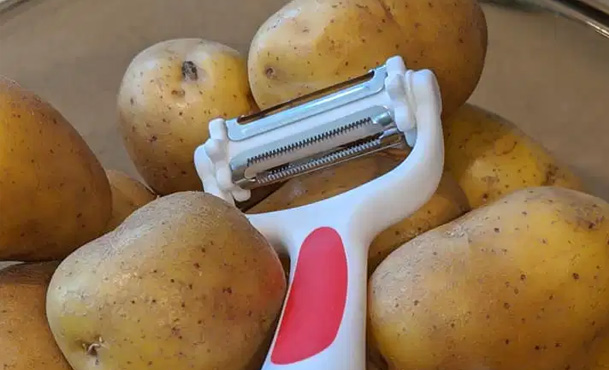 After I peel all my potatoes, you will need to chop the potatoes into quarters and pour water over the potatoes, util they are completely covered. A good rule of thumb is to NEVER use a cast iron skillet while boiling potatoes because it will strip off your seasoning. I strongly recommend using an enameled dutch oven. I love using Amazon Basics Enameled Cast Iron Dutch Oven.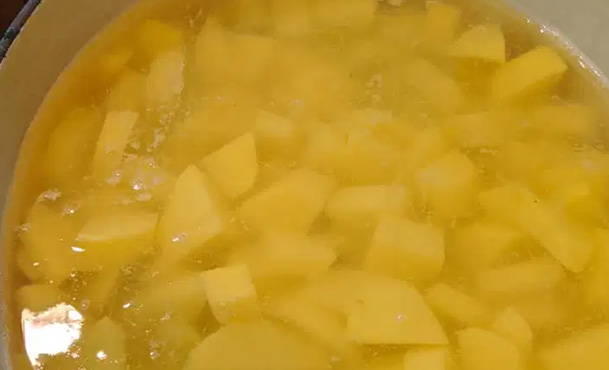 While the potatoes are boiling, I like to use a teaspoon of salt while the potatoes are simmering.
I boil the mashed potatoes until they easily fall apart, when I stab them with a fork. Pour the potatoes out in a strainer. Allow the water to escape before placing into the mixing bowl This will keep your mashed potatoes from being watered down.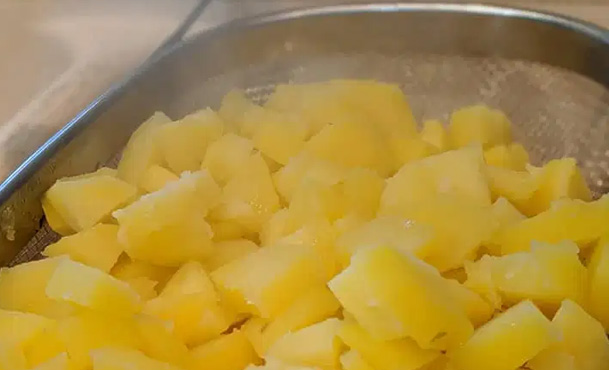 After about five minutes, place the potatoes in the mixing bowl and mash the potatoes down. Place one and one-half sticks of butter in the potatoes and mix until creamy.
Next, you will need to add cream cheese. This adds an unbelievable creamy texture to the mashed potatoes. I love anything with cream cheese!
I find it easier to add the cream cheese in blocks and then mixing.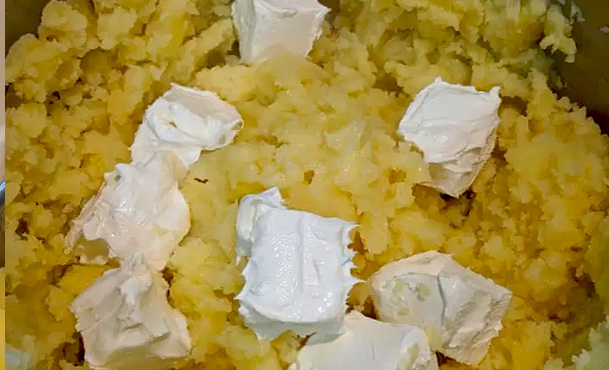 Once fully mixed, you will need to add 1/2 cup whole milk. I love to use fresh cows milk. I find that the texture will add more fluff and a more in depth flavoring to the mashed potatoes.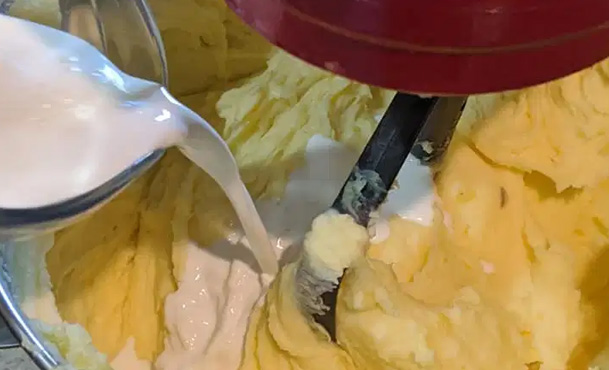 Once fully mixed, the best is yet to come. The spices. My goodness, this adds an unbelievable pop in flavor!
1/2 teaspoon Lawry's seasoning salt, 1/2 teaspoon salt, and 1/2 teaspoon of pepper. Mix until everything is well combined and creamy.
Next, you will need to pour out the mashed taters in a Pyrex dish, wrap, and refrigerate over night.
When warming up my mashed potatoes, I love re-heating them with my cast iron skillet. This provides a faster cook time and a remarkable center piece to talk about. Also, the mashed potatoes will stay warm longer once out of the oven. Which is a huge bonus for me because I need the extra room in my oven, especially on Thanksgiving.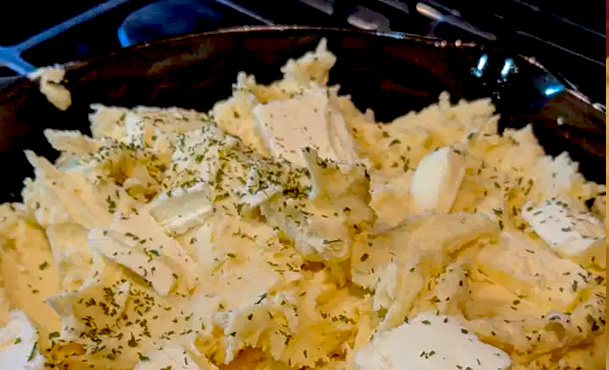 In a 8 to 10 inch oiled down cast iron skillet, place a few slices of butter on top of your mashed potatoes, and place in the oven at 350 degrees for 15 minutes. Watch closely because the potatoes will warm up fast. You don't want the bottom to burn.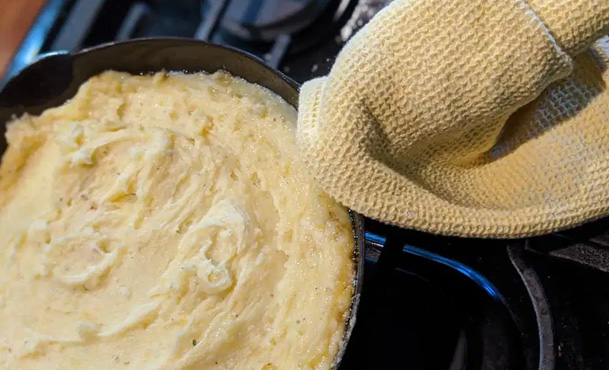 Last but not least, grab a shovel and start cramming the taters in your mouth.
Pioneer Woman's Creamy Mashed Potatoes
5 pounds gold potatoes
1 1/2 sticks butter
1 package cream cheese (8 ounces)
1/2 whole milk (cow's milk preferred)
1/2 teaspoon salt
1/2 teaspoon Lawry's seasoned salt
1/2 teaspoon pepper
Wash, peel, and chop potatoes in quarters. Place halved potatoes in a cast iron enameled Dutch oven. Pour water over potato halves, until they are completely submerged in water. Boil potatoes until they start to fall apart.
Pour water in a strainer, and allow cooked potatoes to drip for five minutes. Place in a mixing bowl and mash down. Place butter in mixing bowl, and mix until creamy. Add cream cheese and mix until everything is fully incorporated. Add milk, and mix once again. Lastly, add spices and mix until everything is evenly blended.
Serve or refrigerate the day before.
If using cast iron to re-heat the day before, pre-heat the oven to 350 degrees. Place cold mashed potatoes in an 8 to 10 inches oiled down cast iron. Place a few pieces of butter on top of the mashed potatoes and bake 15 minutes. Carefully watching so they won't burn.
Serve while hot and enjoy your PO-TAY-TOES.